RT May 3, 2023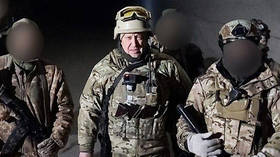 The head of the private military company Wagner Group, Yevgeny Prigozhin, said on Wednesday that the Ukrainian forces had begun their counterattack in Artyomovsk (known in Ukrainian as Bakhmut) and are threatening to overwhelm his undersupplied troops.
Wagner forces advanced more than 200 meters on Wednesday, sustaining 116 fatalities and leaving less than three square kilometers of the Donbass city in Ukrainian possession, Prigozhin said in an audio clip shared online.
However the PMCs leader then announced that the Ukrainian military has "…begun its counterattack," with "…unlimited manpower and ammunition."
Meanwhile, he painted a dire picture of Wagner's own situation, saying "ammunition shortages are acute" and his troops have enough rounds remaining "for just a few days."
The Russian Defense Ministry is refusing to issue artillery ammunition to Wagner, "ignoring our every request," Prigozhin claimed.
https://www.rt.com/russia/575743-wagner-boss-counteroffensive/