Moon of Alabama (MoA)
Yesterday saw two significant developments or incidents with regard to the conflict in Ukraine.
The Kerch bridges which connect Crimea with Russia, one for cars and one for trains, were sabotaged. At least one of the two road spans has fallen down while tanker rail cars on the parallel train bridge caught fire.
bigger
CCTV footage shows that 
a truck exploded
 while passing the bridge. Here is a 
video of the damage
. One of the two road spans seems to be intact.
https://www.moonofalabama.org/2022/10/ukraine-sitrep-recent-incidents-concerning-all-sides.html#more
Zelensky's office claim to be responsible for a terrorist act.
https://t.me/grahamwphillips/569
A series of statements from the Ukrainian side, and Zelensky's office, clearly indicate they are claiming credit for today's explosion on the Crimean Bridge.
Ukraine Pokes the Bear – Celebrates Massive Bombing of Russia's Kerch Bridge to Crimea with New Stamp of Bridge Explosion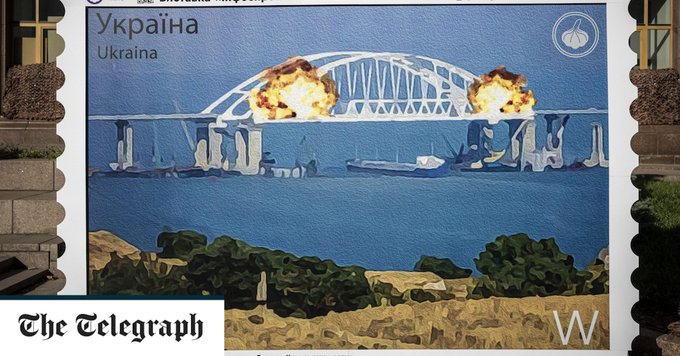 https://www.thegatewaypundit.com/2022/10/ukraine-pokes-bear-celebrates-massive-bombing-russias-kerch-bridge-crimea-new-stamp-bridge-explosion/