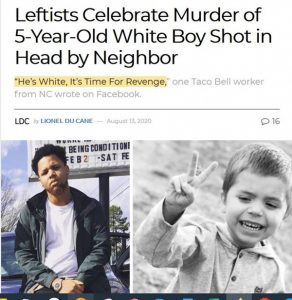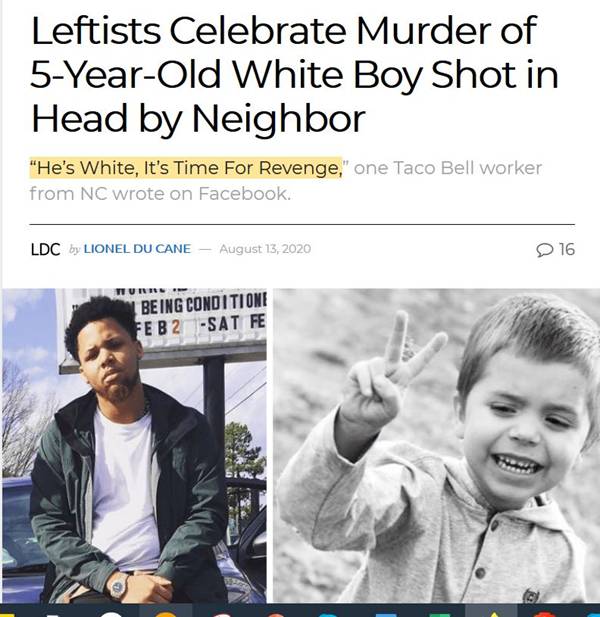 Two separate accounts on social media openly celebrated the horrific murder of 5-year-old Cannon Hinnant, shot execution style by Darius Sessoms after the child road his bike on his lawn, using the child's race as a focal point as news of the crime spread across social media.
In one post, a Taco Bell worker from North Carolina, in an expletive and spelling mistake-laden reply to a post celebrating the memory of the child who was soon due to begin kindergarten, wrote: "[I don't] give a shit – he is white it's time for revenge we tired, shit's over with, now we shooting y'all [sic] go cry to ya momma [sic]."
Nationalist Review archived the suspected Taco Bell worker's Facebook page after making the provocative remark.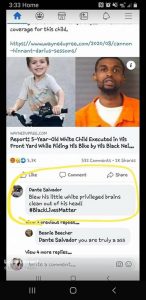 Social media erupted in disgust at the inflammatory post written by the man identified as Kent. However, it was later revealed that on another post mentioning the same story, another man, this time reportedly from San Francisco, saw fit to celebrate the young boy's execution.
Dante Salvador: "Blew his little white privileged brains clean out of his head! #BlackLivesMatter"
Cannon Hinnant, 5, was riding his bike with his sisters in a Wilson, NC, neighborhood on a summer's day, outside his father's house, when his young life was cut short.
Hinnant, according to family members, rode his bike onto the neighbor's yard, prompting Darius N. Sessoms, 25, to shoot him in the head at point blank range. His sisters, 7 and 8, saw their brother get shot.