CJ Hopkins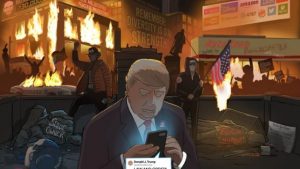 So, according to the corporate media, this is it for Russian-backed Hitler. Game over. The walls are closing in. It's the last days of the Trumpian Reich. Get those vuvuzelas ready!
Yes, apparently, the American people, who were all a bunch of Putin-worshipping, white-supremacist neo-Nazis when they elected Trump in 2016, have come to their senses and are going to deliver a landslide victory to "Slappy" Joe Biden and bring down the curtain on this "Age of Darkness," or save the world from "racial Orwellianism" or the "bottomless pit of facsism," or whatever.
White supremacy will be defeated and globalization will rise from the ashes! Decency will be restored! Love will trump hate! Black lives will matter!
Slappy and Kamala will immediately fly down and liberate the concentration camps. Trump will face some sort of Nuremberg trial, where he will have to answer for mass-murdering six million people with the Coronavirus by taking off his mask on the White House balcony.
https://off-guardian.org/2020/10/28/the-last-days-of-the-trumpian-reich/