Rioter Who Punched Out Trump Supporter In Viral Video Is Registered Child Sex Offender
A protestor who was arrested after he punched a supporter of President Donald Trump is also a registered child sex offender, public records show.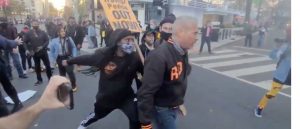 The Metropolitan Police Department arrested 39-year-old Kenneth Wayne Deberry on Saturday for disorderly conduct, including inciting violence, aggravated assault, and felon in possession of a firearm after police found he was carrying a handgun, according to an MPD press release.
According to the MPD Sex Offender Registry, Deberry is a registered sex offender who was convicted in Washington, D.C. in 2008 of second degree child sexual abuse against a person under 16 years of age.
Video footage showed the attacker come up behind the Trump supporter and punch him so hard that the victim fell on his face to the ground and lay still for several moments before those around him helped him to his feet. As he lay on the ground, a person briefly stomped on him.
https://dailycaller.com/2020/11/16/blm-trump-million-maga-march-child-sex-offender-punch-man/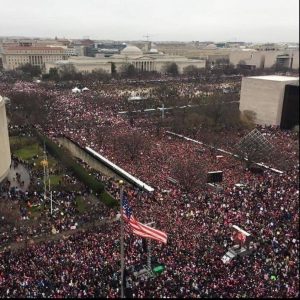 https://video.twimg.com/ext_tw_video/1327708204055334914/pu/vid/1280×720/a-_Gqlxw3TG1J389.mp4?tag=10
RT
https://www.rt.com/usa/506755-washington-trump-supporters-attacks/
As the pro-Trump event winded down later in the day and MAGA supporters started to disperse, 'counter-protesters' turned increasingly violent and were seen chasing, attacking and harassing lone activists as police apparently struggled to respond to multiple incidents happening all at once.
Several videos shared online show a black-clad mob throwing projectiles and shooting fireworks at Trump supporters as they dined at restaurants in downtown DC.
Another group of 'peaceful' counter-protesters allegedly ransacked a stand with MAGA merchandise, and were seen torching a pile of hats and flags in the vicinity of so-called BLM Plaza.
Several other videos showed conservative activists trying to walk away as mobs followed them, intimidating and dousing Trump supporters with unidentified liquids.
DC: BLM and Antifa threaten and intimidate an elderly Trump Supporter out of BLM Plaza Unknown liquids can be seen being thrown on the elderly man, also attempts to hit him with an American flag pic.twitter.com/RU9hXGzmD2

— Drew Hernandez (@livesmattershow) November 14, 2020
While police were present in the streets in big numbers, witnesses decried their slow response to the volatile situation.
One Trump supporter was brutally knocked down from behind and repeatedly kicked while lying on the asphalt – but in that case at least police reportedly arrested the perpetrators.
BREAKING – Multiple Trump supporters assaulted by pro-BLM supporters in Washington D.C. One of the supporters assaulted was brutally knocked out. The scene is chaotic right now #MillionMAGAMarchpic.twitter.com/2Gjl8WC8Z0