ALIPAC
Age restricted video.
A man carrying our American flag is attacked and beaten by ANTIFA, BLM, & La Raza . . . .
https://www.breitbart.com/politics/2020/05/31/portland-mob-beats-kicks-unconscious-man-who-tried-to-help-another-victim/
La Raza flag also turned up at CNN headquarters in Atlanta next to Black Lives Matter flag.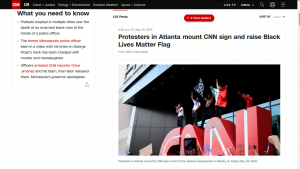 https://www.cnn.com/us/live-news/george-floyd-protest-updates-05-28-20/h_c9906033b326a2d4ab9cab11a287482e
Protesters also torched an American flag outside CNN Center in Atlanta and broke the glass near the entrance of the center.