RT
English-language military official's warning may indicate an attempted assassination, Russia's human-rights chief believes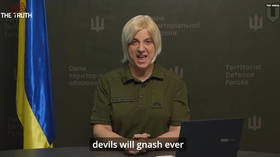 A threat to "hunt down" Russian "propagandists" which flagged an action "next week" and was made by a Ukrainian military spokesperson, should not be dismissed just because of its over-the-top presentation, a senior Russian official has argued.
On Wednesday, Sarah Ashton-Cirillo, who leads the Ukrainian Territorial Defense Forces' purported outreach to English-speaking audiences, made some ominous predictions regarding Russia.
"Next week, the teeth of the Russian devils will gnash ever harder, and their rabid mouths will foam in uncontrollable frenzy as the world will see a favorite Kremlin propagandist pay for their crimes," she said.
https://www.rt.com/russia/582950-ukraine-spokesperson-threat-propagandists/