by Dave McGowan | May 8, 2008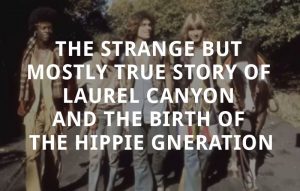 In March of 1965, the first uniformed U.S. soldier will officially set foot on Vietnamese soil (although Special Forces units masquerading as 'advisers' and 'trainers' had been there for at least four years, and likely much longer). By April 1965, fully 25,000 uniformed American kids, most still teenagers barely out of high school, will be slogging through the rice paddies of Vietnam. By the end of the year, U.S. troop strength will have surged to 200,000.
Meanwhile, elsewhere in the world in those early months of 1965, a new 'scene' is just beginning to take shape in the city of Los Angeles. In a geographically and socially isolated community known as Laurel Canyon – a heavily wooded, rustic, serene, yet vaguely ominous slice of LA nestled in the hills that separate the Los Angeles basin from the San Fernando Valley – musicians, singers and songwriters suddenly begin to gather as though summoned there by some unseen Pied Piper. Within months, the 'hippie/flower child' movement will be given birth there, along with the new style of music that will provide the soundtrack for the tumultuous second half of the 1960s.
An uncanny number of rock music superstars will emerge from Laurel Canyon beginning in the mid-1960s and carrying through the decade of the 1970s. The first to drop an album will be The Byrds, whose biggest star will prove to be David Crosby. The band's debut effort, "Mr. Tambourine Man," will be released on the Summer Solstice of 1965. It will quickly be followed by releases from the John Phillips-led Mamas and the Papas ("If You Can Believe Your Eyes and Ears," January 1966), Love with Arthur Lee ("Love," May 1966), Frank Zappa and The Mothers of Invention ("Freak Out," June 1966), Buffalo Springfield, featuring Stephen Stills and Neil Young ("Buffalo Springfield," October 1966), and The Doors ("The Doors," January 1967).
One of the earliest on the Laurel Canyon/Sunset Strip scene is Jim Morrison, the enigmatic lead singer of The Doors. Jim will quickly become one of the most iconic, controversial, critically acclaimed, and influential figures to take up residence in Laurel Canyon. Curiously enough though, the self-proclaimed "Lizard King" has another claim to fame as well, albeit one that none of his numerous chroniclers will feel is of much relevance to his career and possible untimely death: he is the son, as it turns out, of the aforementioned Admiral George Stephen Morrison.
https://centerforaninformedamerica.com/inside-the-lc-the-strange-but-mostly-true-story-of-laurel-canyon-and-the-birth-of-the-hippie-generation-part-i/
For more, click here: