By Doug Casey and International Man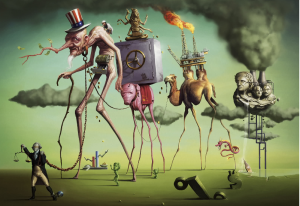 International Man: Deagel is a private online source for the military capabilities of the world's nation-states. It recently released a shocking five-year forecast.
The report analyzes countries by projected population size, GDP, defense budget, and more.
In it, they predict a 70% reduction in the size of the United States population. This is a bold prediction. What are your thoughts on this?
Doug Casey: I've got to say that I wasn't familiar with Deagel—it keeps a low profile. Deagel is in the same business as Jane's—which has been in the business of analyzing weapons systems for many decades.
A look at the Deagel website, which is quite sophisticated, makes it clear we're not dealing with some blogger concocting outrageous clickbait. It seems to be well-connected with defense contractors and government agencies like the CIA.
They've predicted that about 70% of the US population, and about the same percentage in Europe, is going to disappear by 2025. It's hard to believe that anybody in their position would make a forecast like that. There's no logical business reason for it, especially since it was done before the COVID hysteria gripped the world. It stretches a reader's credulity.
<snip>
Could it possibly happen? It would be the biggest thing in world history. Does it have a basis in reality, or is it just some bizarre trolling exercise? I'm not sure—it's hard to take almost anything from any source at face value these days. But for the last several years, I've been saying that World War III would basically be a biological war. Of course, it will have substantial conventional, nuclear, space-based, and AI/computer elements as well, but its most serious component will be biological. Essentially, it will involve the use of bacteria and viruses to wipe out the enemy. The odds are that it will be between the US and China. But since anyone with a CRISPR in their garage can hack the genome and DNA of almost anything and anybody… there are no limits to the possibilities.
https://www.lewrockwell.com/2021/04/doug-casey/shocking-2025-deagel-forecast-war-population-reduction-and-the-collapse-of-the-west/