This is Rep. Brian Mast, a Republican from Florida who sits on the House Foreign Affairs Committee, wearing his IDF uniform in Congress.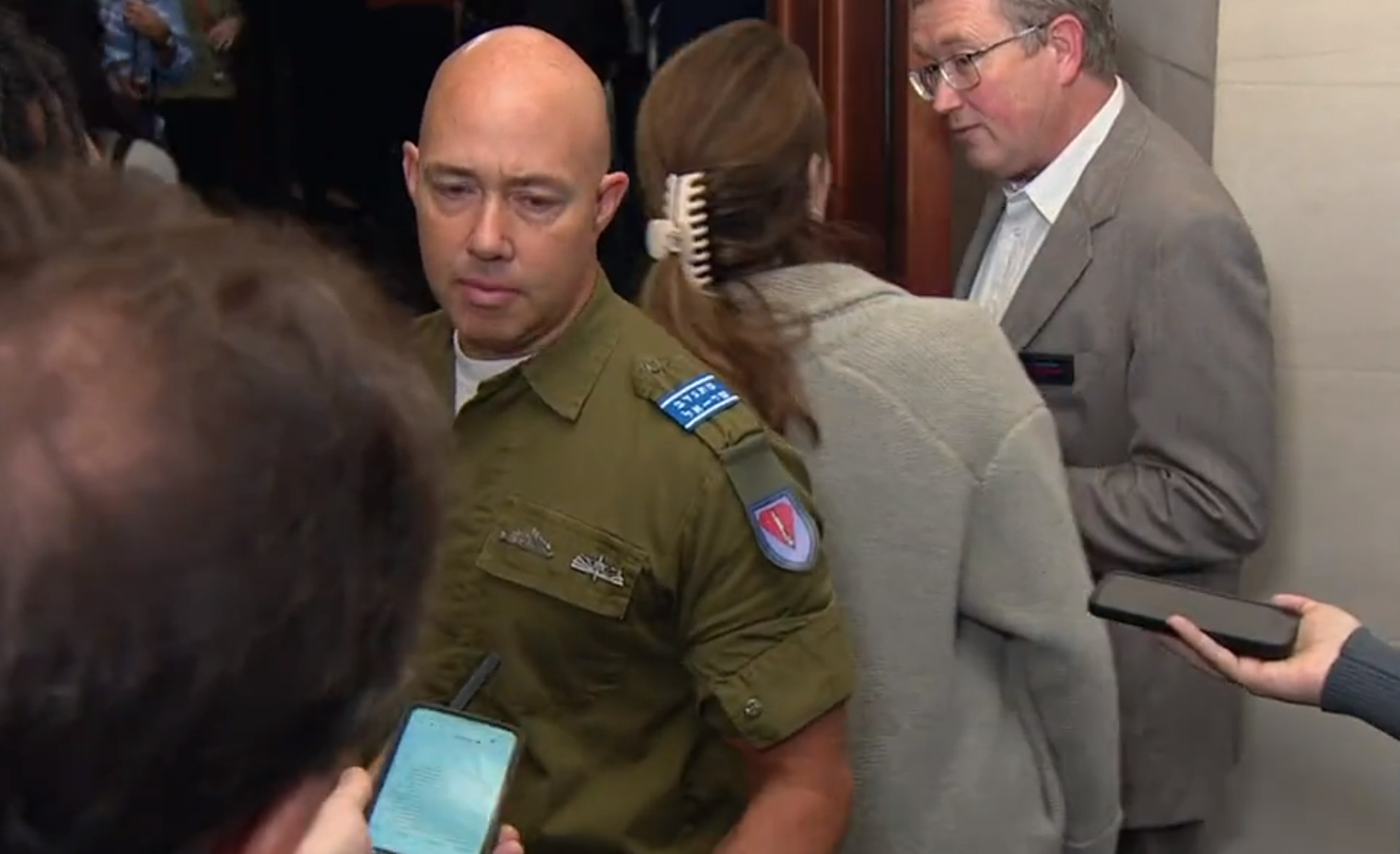 Note: Mast is also part of the Bipartisan Task Force for Combating Anti-Semitism.
https://www.c-span.org/video/?c5091270/user-clip-reprep-brian-mast-house-remarks-november-1st-2023
Has Israel's govt recruited a member of the House Foreign Affairs Committee?
"He should not have security clearance. That's just common sense," a former Special Forces officer warned after Rep. Brian Mast showed up to work in an Israeli military uniform.
Brian Mast, a member of the United States Congress seated on the House Foreign Affairs Committee, showed up for work this October 13 clad in the uniform of the Israeli military.
"As the only member to serve with both the United States Army and the Israel Defense Forces, I will always stand with Israel," the evangelical Christian Republican posted on X around 10:30 in the morning.
Mast went on to attack his Palestinian American colleague, Rep Rashida Tlaib, declaring, "Tlaib's got her flag. I got my uniform. 'Global Day of Rage' my ass."
<snip>
Mast's publicity stunt not only highlighted his flamboyant support for an army that has killed [3,600] children since its assault on the besieged Gaza Strip began on October 8. It also raised the question of how a member of the Congress could proudly serve in a foreign military, then wear its uniform to work, after swearing an oath to uphold and protect the Constitution of the United States.
Is it appropriate that someone who has served in a foreign military be allowed to return to the United States and serve on such a sensitive government committee, earning a security clearance along the way?
"Anyone who has worked with the Israelis is briefed that they will attempt to elicit, collect, and recruit from Americans," a former US Special Operations officer who asked to remain anonymous explained to The Grayzone. "He should not have security clearance. That's just common sense."
Having previously served the US military in Afghanistan, Mast volunteered as a bomb disposal specialist for the Israeli army during its 2014 assault on the Gaza Strip. The 51-day assault known as "Operation Protective Edge" resulted in widespread destruction of civilian homes as well as the death of 2202 Palestinians including 526 children.
"I learned a tremendous amount over there just through that experience being on base, being in uniform being next to all of the the service members of the [Israeli army] at that time," Mast gushed in a June 2020 interview with the American Jewish Committee's Transatlantic Institute, explaining that he was inspired to join the foreign army after being triggered by pro-Palestine protests on campus during his time at Harvard.
https://thegrayzone.com/2023/10/14/israels-govt-foreign-affairs-committee/
Israel-Gaza war in maps and charts: Live Tracker
The latest death toll stands at 11,261 Palestinians and at least 1,405 people killed in Israel since October 7.
https://www.aljazeera.com/news/longform/2023/10/9/israel-hamas-war-in-maps-and-charts-live-tracker
DEIR AL-BALAH, Gaza Strip (AP) — More than 3,600 Palestinian children were killed in the first 25 days of the war between Israel and Hamas, according to Gaza's Hamas-run Health Ministry. They were hit by airstrikes, smashed by misfired rockets, burned by blasts and crushed by buildings, and among them were newborns and toddlers, avid readers, aspiring journalists and boys who thought they'd be safe in a church.
https://apnews.com/article/israel-hamas-11-1-2023-children-killed-4a352398b32887e60a658e0270f0a021