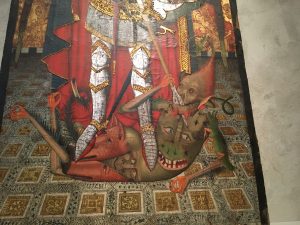 https://www.dailymail.co.uk/news/article-8408463/Catholic-archbishop-tells-Trump-protests-virus-deep-state-plot.html
President Trump tweeted a letter written to him from Carlo Maria Viganò, a Catholic archbishop
Viganò suggested  the coronavirus pandemic and the George Floyd protests are part of a 'deep state' plot to hurt the president's re-election
He said he knew Trump was on right side because he participated in the anti-abortion 'March for Life'  
President Trump tweeted a letter written to him from Carlo Maria Viganò, a Catholic archbishop, who suggests the coronavirus pandemic and the George Floyd protests are part of a 'deep state' plot to hurt the president's re-election.
In the long-winded letter, Viganò describes the current climate as a battle against good and evil and says Trump's participation in the anti-abortion 'March for Life' 'confirm[s] which side you wish to fight on.'
'In society, Mr. President, these two opposing realities co-exist as eternal enemies, just as God and Satan are eternal enemies. And it appears that the children of darkness – whom we may easily identify with the deep state, which you wisely oppose and which is fiercely waging war against you in these days – have decided to show their cards, so to speak, by now revealing their plans,' Viganò wrote.