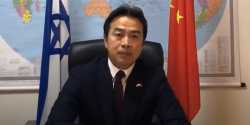 Adding to a string of suspicious coronavirus events and deaths, is the 'sudden mysterious death' of healthy-seeming, age in late 50s Chinese ambassador to Israel Du Wei, at his home in Herzliya near Tel Aviv on 17 May.
This was just 4 days after US Secretary of State Mike Pompeo broke international quarantine to visit Israel on 13 May.
And shortly after Du Wei had publicly criticized Pompeo's aggressive charges accusing China of guilt in causing the global 'covid-19 pandemic.'
Before arriving in Israel, Du Wei had previously China's ambassador in hotspot Ukraine during 2016-19, he maybe had many stories to tell.
A fascinating 4chan thread on this death, was started by a poster in Israel.