Essay by Victoria Nikiforova (columnist at RIA Novosti), Dec 12, 2022. (Translated and published into English here on A Socialist In Canada, Dec 12, 2022. The original in Russian is here. You can read the essay here in pdf format: The US is planning a full-scale war with Russia.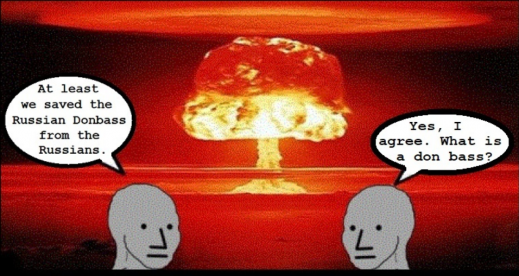 The influential and well-informed U.S. publication Foreign Policy has recently revealed a curious conflict taking place between the Pentagon and the U.S. Congress. Officially, this conflict is denied by both sides; the squabbling takes place only on the sidelines. However, Foreign Policy spoke to high-ranking military officials and a number of legislators. On condition of anonymity, they tell a lot of interesting things.
The Foreign Policy article is titled 'U.S. plans for a hypothetical war against Russia are limiting aid to Ukraine amidst the real one'. It was published on December 9.
<snip>
[General] Miley sees, as a military man, that Ukraine is not coping. No matter how much money is poured into it, no matter how many weapons are shipped, the Armed Forces of Ukraine cannot fulfill the combat missions that Washington is setting before it. This means that the operational plan for the NATO war against Russia is not some old trump card that Milley puts on the table every year, seeking an increase in defense spending from Congress. It's a completely real plan for a very real, big war.
That is why officials in the Pentagon deny such a thing in every way possible. They deny any large-scale war plans until the time when they are ready to openly reveal them, that is, until the time when NATO and the United States are at war with Russia according to Washington's timing. But behind the scenes, as we can see, the topic of a large-scale confrontation with our country is being worked out very actively. The funding is already being put in place—the most recent U.S. U.S. defense budget is almost 860 billion dollars, and most of that is dedicated to "containment of Russia".
https://socialistincanada.ca/how-the-u-s-is-planning-a-full-scale-war-with-russia/