RT
The Democratic Party has provoked a collective eye roll on Twitter after blasting the president for an upcoming rally at Mount Rushmore, saying it would honor "white supremacy" on sacred native land. The tweet was quickly nuked.
The Dems' latest hot take on Monday night stood for only moments before it was sent down the memory hole, though by then it had already been preserved for eternity on an internet archive site. The hot-button tweet said President Donald Trump had "disrespected Native communities," and would do so again by holding his July 4th rally at Mount Rushmore, which it deemed "sacred" to some Native American tribes.
The now-deleted post sent critics into a fury, interpreting the message to say that both the iconic American monument and Independence Day itself are celebrations of racism.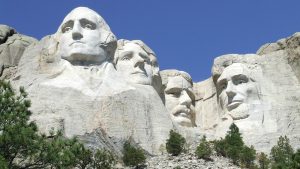 https://www.rt.com/usa/493311-democrats-trump-mount-rushmore/