RT
The Ukrainian president does not feature in the Jerusalem Post's new rankings after topping the table in 2022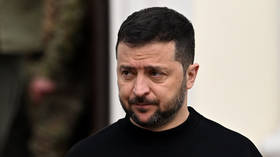 Ukrainian President Vladimir Zelensky has not been included on this year's 50 "most influential Jews" list, which is compiled annually by the prominent Israeli Jerusalem Post newspaper. Zelensky topped the list in 2022 amid the ongoing conflict between Moscow and Kiev.
This year, the top spot on the newspaper's list went to Sam Altman, the CEO of the US-based OpenAI IT company that created the ChatGPT chatbot. The entrepreneur is followed by Israeli Prime Minister Benjamin Netanyahu and US Foreign Secretary Antony Blinken, who respectively occupy second and the third place among the "most influential Jews" of 2023.
The Jerusalem Post also gave an honorable mention to the deceased Russian businessman and founder of the Wagner Group private military company, Evgeny Prigozhin, although it ranked him in 52nd place.
https://www.rt.com/news/583032-zelensky-out-most-influential-jews/