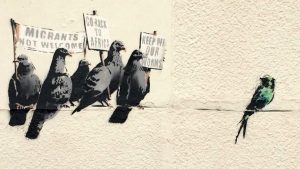 It is too soon to make a final assessment on the management of COVID-19 by the countries of the world, but one thing is sure: Belgium is in the middle of a great carnage.
It all began in 2015, when the government of Prime Minister Charles Michel (today's European Council president) decided to destroy Belgium's entire "strategic stock" of 63 million protective face-masks, including the precious FFP2 type — 1,200 pallets carefully stored and guarded by the army in the Belgrade Barracks, in Namur. Because they were "out of date," said Minister of Health Maggie De Block, who is still on the job today. "Not at all," said the main union of the Belgian army, "these masks were incinerated… to 'make room' for housing refugees." In 2015, Belgium and Europe were overwhelmed by migrants at the invitation of German Chancellor Angela Merkel, and the laws of the EU and the European Convention on Human Rights made it effectively impossible to reject them.
The entire strategic stock was thus incinerated, and never replaced — another decision of De Block, which, given the regularity of epidemics and pandemics, amounts to a crime. "To govern is to foresee", said Emile de Girardin.
https://www.gatestoneinstitute.org/15916/coronavirus-belgium-carnage