MoA [Moon of Alabama]
The U.S. government under Joe Biden had developed plans to ethnically cleanse Gaza by moving all of its 2.3 million people into Egypt:
Amazing: President Biden is working on a plan with other countries that would allow civilians to safely leave Gaza and cross the border into Egypt. This is great news. President Biden is making sure that innocent people don't die due to the actions of Hamas. That's leadership.
The NSC spokesperson had confirmed that plan:
US 'actively working' to establish safe corridor for Gaza civilians: White House – Yeni Safak – Oct 12, 2023
The US is in active talks with Israel and Egypt to establish "safe passage" corridors for civilians in Gaza to flee ongoing Israeli airstrikes, the White House said Wednesday amid an expected ground offensive in the besieged enclave.

"We're actively discussing this with our Israeli and our Egyptian counterparts, we support safe passions for civilians. Civilians are not to blame for what Hamas has done. They didn't do anything wrong," National Security Council spokesperson John Kirby told reporters at the White House.

"We are actively working on this with Egyptian and our Israeli counterparts. Civilians are protected under the laws of armed conflict, and they should be given every opportunity to avoid the fighting," he added.
This all was based on a plan originally developed by radical Zionist within the government of Israel:
Leaked: Israeli plan to ethnically cleanse Gaza – The Cradle – Oct 29, 2023
Israeli culture magazine Mekovit published on 28 October a leaked document issued by Israel's Ministry of Intelligence recommending the occupation of Gaza and total transfer of its 2.3 million inhabitants to Egypt's Sinai Peninsula.

The document, issued on 13 October, identifies a plan to transfer all residents of the Gaza Strip to North Sinai as the preferred option among three alternatives regarding the future of the Palestinians in Gaza at the end of the current war between Israel and the Hamas-led Palestinian resistance.

The document recommends that Israel evacuate the Gazan population to Sinai during the war, establish tent cities and new cities in northern Sinai to accommodate the deported population, and then create a closed security zone stretching several kilometers inside Egypt. The deported Palestinians would not be allowed to return to any areas near the Israeli border.
<snip>
Russia had called out the plan for the nonsense it is:
Middle East and Central Asia. Lavrov on the interests of the USA and the West, parallels with Ukraine – Belta – Oct 28, 2023
"It is clear that such an approach is disastrous, because if the Gaza Strip is destroyed, if two million residents are driven out, as some politicians in Israel and abroad are implying, this will create a catastrophe that will last for many decades, if not centuries," Sergey Lavrov noted.
Backed by Russia the Egyptian resistance against the plan continued. A phone call held yesterday finally buried it:
Sisi, Biden probe developments of Gaza escalation, reject displacement of Palestinians – Ahram Online – Oct 29, 2023
During the call, El-Sisi reiterated Egypt's firm rejection of policies that collectively punish and displace the Palestinian people.

Biden, for his part, affirmed to El-Sisi that the US likewise rejects the displacement of Palestinians outside their homeland, expressing his appreciation for the positive role played by Egypt in this crisis, said Egyptian Presidential Spokesman Ahmed Fahmy.
https://www.moonofalabama.org/2023/10/biden-forced-to-call-off-his-plans-for-ethenic-cleansing-of-gaza.html#more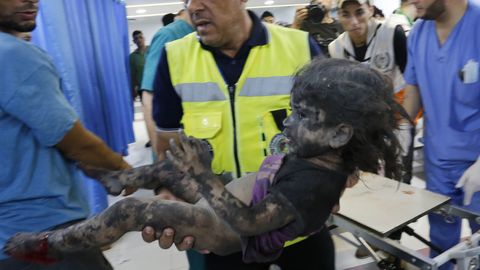 Reader comment:
Russia really missed a trick here.
Apparently all it needed to do to get the West's blessing was create a huge buffer zone up to the Dnieper river and 'evacuate' all the pro-Kiev citizens to the other side of the river.
Likewise, Putin could have completely avoided the International Criminal Court charge: instead of evacuating children from the warzone, all he had to do was bomb them.
Posted by: FakeBelieve | Oct 30 2023 11:20 utc | 29