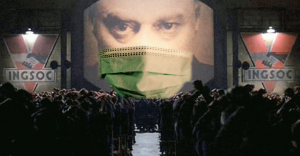 RT [Neil Clark]
The UK Prime Minister's remote speech to his party conference saw him dismiss the idea of returning to normality. Is he using Covid-19 to follow the World Economic Forum's 'Great Reset' agenda, as many have warned?
'It's not really about public health or a virus. They have another agenda.' That's what the so-called 'conspiracy theorists' have been saying since March, when the first British lockdowns were imposed and our lives were turned upside down.
Those 'conspiracy theorists' were denounced, as always, as 'cranks' and 'flat-Earthers' but here we are in October, and, let's face it, there is absolutely no sign, despite very low numbers of deaths 'with' Coronavirus, that we are returning to anything like normal. In fact, in his keynote speech yesterday, Prime Minister Boris Johnson specifically ruled out a return to normal, not even with a vaccine.
"After all we have been through, it isn't enough just to go back to normal. We have lost too much. History teaches us that things of this magnitude – wars, famines, plagues, events that affect the vast bulk of humanity, as this virus has – they do not just come and go. They can be the trigger for economic and social change."
When I heard Johnson utter those words I thought, 'where have I heard this stuff before?' Well, the answer is in the book 'Covid-19: The Great Reset' by Klaus Schwab, the executive chairman of the World Economic Forum, and Thierry Malleret. They too, like Johnson, invoked the Second World War as the trigger for fundamental changes, not only to the global order and global economy, but to society and the way human beings interact with one another. Like Johnson, they don't want to return to normal. "Many of us are pondering when things will return to normal. The short response is never."
https://www.rt.com/op-ed/502795-boris-johnson-uk-great-reset/