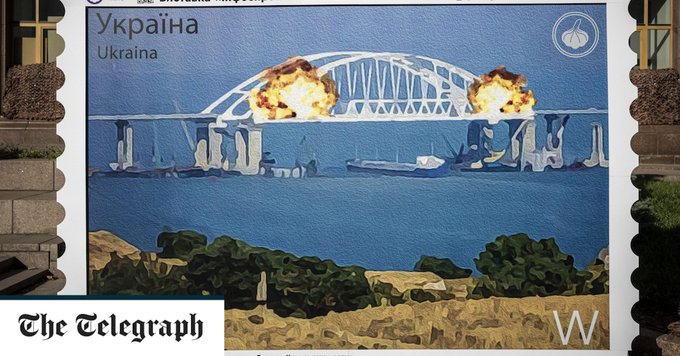 The Telegraph
Oct 10, 2022Five Ukrainian cities have been targeted in coordinated revenge attacks a day after Vladimir Putin was urged to retaliate over an explosion on a key Crimea bridge. Several loud blasts were heard in the Ukrainian capital around 8.15am local time in what appeared to be coordinated attacks on several cities. As well as Kyiv, the cities of Lviv, Ternopil, Zaporizhzhia and Dnipro were also hit by shelling amid calls for revenge from Russian hardliners. Volodymyr Zelensky, the Ukrainian president, said Russia was trying to wipe his country "off the face of the earth", and confirmed that people had died in the attacks. The shelling in Kyiv – the first in months – comes after Russian officials said the weekend blast on the bridge connecting Crimea to Russia was caused by a truck explosion. Some analysts have speculated that a missile strike could have caused it.
Russian air strikes hit multiple Ukrainian cities | DW News
Ukraine's State Emergency Services said at least 11 people have been killed and more than 60 wounded in Russian missile strikes on several Ukrainian cities Monday. The strikes are the largest coordinated assault on Ukrainian cities since the early days of the war. The Russian Defense Ministry said the strikes targeted Ukraine's military command and communication facilities and energy infrastructure. At least six people were killed in Kyiv when missiles struck several locations in the city center during morning rush hour. Officials in the central city of Dnipro said four people were killed. The leader of Ukraine's armed forces, Valeriy Zaluzhny, said around 75 Russian missiles were launched, of which more than 40 were shot down by Ukrainian forces. Ukrainian President Volodymyr Zelenskyy said the Russian forces had also used Iran-built armed attack drones.
[It would appear Volodymyr Zelensky wants to implicate Iran in the bombardment of Kiev, hoping to make it a target of future attacks by NATO.  — S. Byron Gassaway]