News from Great Britain

The "migrant crisis" demands that Sajid Javid stands up to the EU and France
Why not just call it an invasion? The "elite" who rule Europe are clearly waging demographic warfare against the European people. The lugenpresse calls it a "crisis" just as the American press uses the term "national immigration debate" to create the impression that something will be done to stop the invasion of the former Free World from the Third World. Perhaps the mass legalization of marijuana and failure to stop the importation of opioids is meant to keep the white Europeans and North Americans fat and happy while their leadership commits mass treason and sedition. -- Webmaster

Bogus anti-Semitism smears unmask UK democracy as little more than a fraud - George Galloway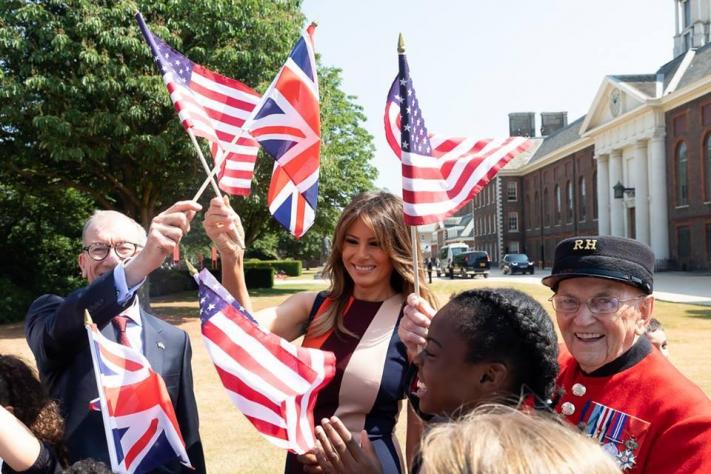 Baffling and embarrassing: Fawning Theresa May bowing to prince sparks mockery online
https://twitter.com/ggreenwald/status/1010121158233116674/photo/1
Meeting outside a rehabilitation center for injured service personnel, the prime minister, ranked the eighth most powerful by Forbes magazine, dipped low in her heels to curtsey to the future monarch as if she was a feudal serf.
The customary bow has been ridiculed online, with Greenwald calling it "baffling" and "embarrassing" that "adult human beings continue to indulge all this with a straight face."
Coming to the monarchy's defense, one Twitter user called the American Greenwald "jealous," pointing out that the royal family earn us a "gabillion quid net each year," and that "countries with Monarchies are oddly more democratic with those without."
Unconvinced, Greenwald replied sarcastically that he had "always wanted so badly to have monarchs that I could bow to," calling the UK "one of the most authoritarian in the West."
Home Secretary Sajid Javid who sent Tommy Robinson to prison reveals how he was a moped mugging victim as he launches battle to beat villains
Tommy Robinsons arrest shocks the world: "Its Tommy today, but its you tomorrow"
The arrest of Tommy Robinson is a blow for freedom of speech and freedom of the press in Europe and the world. Robinson was arrested in Leeds (UK) while filming outside a courthouse where men with a migrant background were sentenced for grooming children.
Canadian broadcaster Ezra Levant of The Rebel, gives a complete explanation about the case on YouTube. Levant is shocked (and surprised) by what happened and warns the media: "I'ts Tommy today, but it's you tomorrow"
Tommy Robinson drew attention to "grooming gangs" so Britain persecutes journalist
From their earliest protests the EDL's members sought to highlight issues including sharia law, Islam's attitudes toward minorities, and the phenomenon that would become euphemistically known as "grooming gangs." In reality these protests often descended into hooliganism and low-level violence (naturally helped along by self-described "anti-fascists"). The authorities did everything they could to stop the EDL, and the media did everything possible to demonize them. In a foretaste of things to come, very few people made any effort to understand them. And nobody paid any price for (indeed many people benefited from) claiming that the EDL was simply a fascist organization and that anybody who even tried to understand them must be a fascist too. The usual prohibition against sweeping generalizations doesn't seem to apply if the generalization tilts in that direction.
MEP's want UK government to release political prisoner Tommy Robinson now
The leaders of the Europe of Nations and Freedom group, held a press conference on the imprisonment of Tommy Robinson on 30 May. The MEPs call on the UK Government to release Tommy Robinson immediately.
Janice Atkinson, an independent UK MEP and Marcel De Graaff, Dutch MEP for the Party for Freedom, didn't mince words when stating that the current state of Britain resembles a police state more than the bastion of free speech we were in times gone by.
De Graaff: Do you really think that this case of Tommy Robinson is about contempt of court? It is about keeping this information away from the general public.
"It's a pity that the Government, police, judiciary and local authorities didn't act with such eagerness and speed for the girls who were systematically sexually abused for over 20 years by Muslim grooming gangs, as they did with Tommy Robinson," Ms. Atkinson says.
Polish far-right attempting to infiltrate UK society to incite violence, warns anti-racist group
Polish co-founder of anti-racism watchdog 'Never Again', has warned that the UK, and particularly London, is being targeted by Polish far-right groups and their leaders, potentially fueling "acts of violence".

In an interview for the BBC, Rafal Pankowski, who has reportedly been accused by the Polish PM of attacking his own country [Poland], with a speech against anti-Semitism, says there is now a concerted effort by Polish far-right groups to infiltrate UK society in actions that could foment violence.
Pankowski says: "Definitely there is a kind of conscious effort on the part of various Polish far-right groups, sending their people, sending their leaders to the UK, to London. If it continues <snip>

"Anti-racist watchdog" means anti-white group.
In the Land of Lies: Seeing, Saying, and Pseudotopia, Part 2
Recall the Labour politician Roy Hattersley, who stood for parliament promising to serve the White working-class in the Birmingham constituency of Sparkbrook. Once elected, he chose to betray his constituents. Decades later, he openly boasted of his treachery in the Guardian: "I was able to resist Sparkbrook's demands about the great issues of national policy - otherwise, my first decade would have been spent opposing all Commonwealth immigration."
Hattersley called immigration a "great issue of national policy" because he knew it bore directly on the nation's future. That was in the 1960s; today the future has arrived. Britain is an authoritarian surveillance state vibrant with the non-White pathologies of terrorism, rape-gangs, violent crime and political corruption. It is a Land of Lies where free speech is dying and the wilfully blind are King. Our new state religion of minority worship insists that Britain has been vastly enriched by mass immigration from violent, corrupt Third-World nations.
Rape-Gangs Unlimited: Third-World People Mean Third-World Pathologies
For the last three years [the television documentary series] Dispatches has been following one of the biggest police investigations of its kind, codenamed Operation Chalice. More than 50 officers at West Mercia Police have worked round the clock to gain the trust of vulnerable girls, some as young as 11 when they were first abused. They've heard appalling accounts about men who would ejaculate and then urinate in children's mouths, violating them in every orifice, as well as gang-rape by queues of men while girls were held hostage for hours, sometimes days – all the while being forced to listen to the screams of girls in other rooms with other men. Inhumane doesn't get close to describing it; it's the stuff that parental nightmares are made of. (Britain's Sex Gangs: Tazeen Ahmad feature, Channel 4 Dispatches, 22nd May 2013)
The truth about broken Britain
Delingpole: Britain Says Yes to Jihadists, No to Free Speech
Current U.K. immigration policy appears to work like this:
It's apparently okay to let in an estimated 425 ISIS terrorists back into the country after their jaunts to the killing zones of Iraq and Syria.
But it's apparently not okay to let in three campaigners whose only crime is to speak out on behalf of the silent majority, which has had just about enough of all this cultural enrichment and who would like their governments to do more to protect them from it.
Fascinating that the U.K. Border Force allows so many illegals to slip through the cracks, but it's suddenly the most competent Border Force in the world when it comes to banning two female conservative independent journalists and an Identitarian activist. pic.twitter.com/JLM9OHOgjP

— Brittany Pettibone (@BrittPettibone) March 12, 2018
Free speech or hate speech? "Right-wing" activists banned from Britain (VIDEOS)
Right-wing activists have been banned from entering the UK and held in 'detention centers', sparking a free-speech "debate" on the streets of London. Members of Generation Identity (GI) and Antifa clashed on Sunday.
Border police held three high-profile members of GI just months after the group opened its UK wing. Martin Sellner, Brittany Pettibone and Lauren Southern were detained as they tried to make their way to London.
GI, seen by some as the European equivalent of America's so-called 'alt-right' has been recruiting in the UK and attempting to spread its message, but a fierce left-wing opposition has seen meetings shut down and rallies interrupted. GI has an anti-Islam, nationalist message propagated through slick social media videos.
Reader comment: "Soon being white, straight, or a Christian will be a jailable offence in the PC-Sharia state of UKistan."
It could happen in Britain: British institutions may not withstand the authoritarian-populist wave
Britain First leader and deputy guilty of religiously-aggravated harassment over 'hostility' towards Muslims
They were arrested in May last year as part of an investigation into the distribution of leaflets and online videos which were posted during a trial at Canterbury Crown Court in the same month, after which three Muslim men and a teenager were convicted of rape and jailed.
Judge Justin Barron said their words and actions "demonstrated hostility" towards Muslims and the Muslim faith.
He found Fransen guilty of three charges and Golding guilty of one charge, but dismissed the other counts against them.
Scottish fishermen react with fury to EU demand for unchanged access to UK waters
Night of knife crime prompts Khan to seek emergency meeting as machete fight VIDEO goes viral
London Mayor Sadiq Khan has called for a meeting with Prime Minister Theresa May as knife crime in the capital hits crisis levels. Two people were stabbed to death on February 20 - the 14th and 15th knife deaths in 2018.
London Assembly figures showed there were 14,521 knife crime offenses in the capital in the 12 months to January 2018, with stabbings in London at their highest level in six years, a 23 percent rise from the previous year.
Keeping Londoners safe is my top priority. I'm asking the Prime Minister and the Home Secretary to urgently meet with me to discuss how we can work together to tackle the evil of knife crime on our streets. https://t.co/kJrH4z724M
- Sadiq Khan (@SadiqKhan) February 21, 2018
Two young men were murdered on the streets in Camden on Tuesday night, prompting the London mayor to call for action from Downing Street.
A 17-year-old died in the street after being attacked outside a corner shop in Kentish Town. Less than two hours later, a 20-year-old died after being stabbed near Belsize Park.
Videos and images circulating in the media have shown just how dangerous the streets are becoming, especially for young men.
UKIP leader ditches lover over baby rape jokes, Meghan Markle racial abuse
UKIP leader Henry Bolton has dumped the model lover he left his wife for, just days after it emerged she sent racist texts about Prince Harry's fiancée Meghan Markle and joked about baby rape, according to reports.
Party insiders say Bolton was told to end the relationship or quit from the top of the right-wing party. Bolton told ITV's GMB this morning that his and Jo Marney's relationship was over.
"I don't defend these comments whatsoever and indeed Jo has been suspended. It's against the constitution of the party to be racist in any way," he said.
UKIP leader's new model girlfriend backs Trump, Enoch Powell and death penalty (PHOTOS)