New York Times In Full Panic Mode Over Reports Trump Will Declare Muslim Brotherhood A Terrorist Organization
A January 26 editorial titled "'I Think Islam Hates Us'" informed readers the Trump administration "reportedly is considering designating the Muslim Brotherhood, which is involved in Muslim politics in a number of countries, as a terrorist organization. Some experts see the move as a chance for the Trump administration to limit Muslim political activity in the United States."
The Times' advocacy for the Brotherhood is particularly noteworthy since it separately posted a full Arabic document from 1991 in which an Egyptian Muslim Brotherhood member set forth a strategy for "eliminating and destroying the Western civilization from within," with emphasis on operations inside the U.S.
Addressing the Brotherhood's support for the electoral process and purportedly becoming a political organization, an extensive report on the Brotherhood by the Meir Amit Intelligence and Terrorism Information Center at Israel's Center for Special Studies explained the group's use of some tools of democracy to advance the aim of achieving a world ruled by Sharia law, which is by definition anti-democratic.
Carnival's Strange Job Transfer Situation (CCL)
According to CBS4 News—a news outlet based in Miami—Carnival is eliminating 200 jobs from its IT department. On the surface, this would be bad news for workers and potentially good news for investors if they are cost-cutting measures. However, there is much more to the story. One, slashing headcount usually only has a positive impact for the short term. Over the long haul, it negatively impacts company morale, leads to reduced production, and market share losses. Two, in this specific case, the people losing their jobs are being guaranteed six months of employment with Capgemini – a French firm that describes itself as a "global leader in consulting, technology and outsourcing services." The catch is that if the Carnival employees don't sign, they will lose their jobs, and if they do sign, they will be participating in "knowledge transfer activities."
Disney IT workers, in lawsuit, claim discrimination against Americans
Alleges that Disney terminated the employment of the plaintiffs based solely on their national origin and race
San Francisco to tax its own citizens to provide legal counsel for illegal aliens colonizing city.
Department of Social Justice: LEOs Can Be Criminals or Non-Citizens, So Long As They Aren't White Guys
[Last] Wednesday, the Department of Justice (DOJ) released the "Advancing Diversity in Law Enforcement" report, which highlights hiring practices in the law enforcement community. In the report. the DOJ discusses problems associated with diversifying police forces, claiming racial diversity is more important than being a law-abiding citizen.
From the report:
Researchers and practitioners have also highlighted that the use of criminal background checks, which are a regular part of the screening process for many agencies, is likely to disproportionately impact racial minority applicants since, for a variety of reasons [actually, for one reason: they commit more crime], individuals from those communities are more likely to have contact with the criminal justice system.
Since the only real criterion is not to be a white male, and white males are less likely to have criminal records, then obviously checking into the criminal histories of potential law enforcement officers would be counterproductive.
Saul Alinsky: a wolf in sheep's clothing
There is a new documentary film out about community organizing guru Saul Alinsky.
It's called A Wolf In Sheep's Clothing.
Here is what Joseph Pronechen at the National Catholic Register has to say about the movie:
Do you want an understanding of where so much of society's problems originated and how things went radically wrong in everything from culture to family life to politics?
You'll find out from A Wolf in Sheep's Clothing ...
The film is no less than riveting. By the brilliant team of Richard and Stephen Payne, the father-son filmmakers who head Arcadia Films, it explores the life and beliefs of one Saul Alinsky, often called the father of community organizing.
You can purchase the movie at its website or watch it on EWTN on the evening of October 1.
Hispanic parents teach their 3 year old to say 'We need to kill Donald Trump'
Univision Promotes 'Make America Mexico Again' (sic)
The US bought and paid for parts of Mexico that is now US territory. These people should be protesting the Mexican government. For selling parts of their country, for getting rich from collaboration with drug cartels, for shooting immigrants on their SOUTHERN border. Just think how ticked off Mexico would be if we adopted THEIR immigration laws and border policy. [Reader comment]
DHS allows 'immigrants' with HIV and STD's to come and infect Americans
Pope Francis Rips Capitalism, American Immigration Policy at Mexican Border
Pope Francis, apparently desperate to reach out to the Catholic Church's growing base in Latin America, spent the day slapping Americans in the face from across the US-Mexico border.
In Ciudad Juarez, one of the most violent cities in the Western Hemisphere thanks to the drug cartels, the pope walked up a ramp covered in flowers toward a cross "erected… in memory of migrants who have perished trying flee their Hispanic failed states," according to Reuters.
So-called "Dreamers" or DACA children offer a snapshot of their anti-White hatred being inculcated into their young minds by anti-American, Marxist, Fidel Castro-type "leaders." These kids will be the Robert Mugabes of the 21st century, trained to destroy what White Europeans built in North America, only to replace it with mirror images of El Salvador, Guatemala, or Puerto Rico.
Congress gives Native American lands to foreign mining company with new NDAA
Congress is poised to give a foreign mining company 2,400 acres of national forest in Arizona that is cherished ancestral homeland to Apache natives. Controversially, the measure is attached to annual legislation that funds the US Defense Department.
This week, the House and Senate Armed Services Committees quietly attached a provision to the National Defense Authorization Act (NDAA) that would mandate the handover of a large tract of Tonto National Forest to Resolution Copper, a subsidiary of the Australian-English mining company Rio Tinto, which co-owns with Iran a uranium mine in Africa and which is 10-percent-owned by China.
The "Carl Levin and Howard P. 'Buck' McKeon National Defense Authorization Act for Fiscal Year 2015" - named after the retiring chairmen of the Senate and House Armed Services panels - includes the giveaway of Apache burial, medicinal, and ceremonial grounds currently within the bounds of Tonto. News of the land provision was kept under wraps until late Tuesday, when the bill was finally posted online.
The land proposed to be given to Resolution Copper, in exchange for other lands, includes prime territory Apaches have used for centuries to gather medicinal plants and acorns, and it is near a spot known as Apache Leap, a summit that Apaches jumped from to avoid being killed by settlers in the late 19th century.
Lands included in the plan will stop 1,500 feet short of Apache Leap and will not initially include an area known as Oak Flats, though, when it comes to the oaks, contradictory legal parameters are but a minor hurdle for a company like Resolution Copper to eventually drill there.
Gov Emergency Manager: Ebola Outbreak is Being Conducted On Purpose; Violates All Protocols
La Raza: We're done waiting for Brown minority rule!
LGBTQ, Immigration Activists Plan "Day of Action" for Amnesty in D.C.
)
Newest Hiring Trend for Members of Congress: Illegal Aliens
Hear anti-American "lawmakers" expose the fact they are owned by foreign illegal alien interests and hate America!
The Wall Street Journal has a front page op-ed piece parading as a "report" or "story" which discusses the "frustration" the "titans" of Silicon Valley have with the rule of law, enforcement of immigration laws, and failure of Congress to pander to illegal aliens.

By MIRIAM JORDAN

A group of Silicon Valley technology leaders, impatient with attempts to rewrite immigration laws, is funding efforts to help undocumented youths attend college, find jobs and stay in the country despite their illegal status.

The group includes Jeff Hawkins, inventor of the Palm Pilot; and the family foundations of Andrew Grove, co-founder of Intel Corp.; and Mark Leslie, founder of the former Veritas Software Corp. Laurene Powell Jobs, widow of Apple Inc. co-founder Steve Jobs, has for years supported undocumented students through her organizations that help low-income high-school students.

http://preview.tinyurl.com/823xnwu
A full court press is being waged by the Department of Justice (sic) and the Mexican consulates with the aid of the NCLR, ACLU, SPLC, MALDEF, Casa de Maryland, and countless other Mexican-backed organizations to sue state, local, and national officials in order to make it a crime to stop illegal aliens from taking over the United States.
Following are news items that show the tactics used by Hispanics and Mexican Fifth Column front organizations to thwart civic officials, police, and citizens in their efforts to keep America for Americans and not illegal aliens.
It was my very good bud, Martha Lich, work in Gypsum.
We are trying to determine the best method to counter CIRC's activities in the Roaring Fork valley.
Here's today's follow up story:
CIRC: Hold public forum on racial profiling
School resource officer no longer working for ICE
jstroud@postindependent.com">John Stroud
Post Independent Staff
Glenwood Springs, CO Colorado
http://www.postindependent.com/article/20110922/VALLEYNEWS/110929977/1083&ParentProfile=1074
CARBONDALE, Colorado - An immigrant rights group that has accused Carbondale's school resource police officer of racial profiling in his dual work with federal immigration enforcement agents is standing behind its claims. The group is also calling for a community forum to discuss the issue.
"We believe it's obvious that the town and the police chief need to hear from more folks on this," said Brendan Greene, Rocky Mountain Region organizer for the Colorado Immigrant Rights Coalition (CIRC).
"We're happy to have this debate, and to open the debate up to the community," he said.
In a statement issued on Monday, Greene's organization accused Carbondale Police Officer Alvaro Agon, 26, of using his position as the local school resource officer (SRO) to profile Latino students and their families for possible criminal and immigration violations, then turning them over to U.S. Immigration and Customs (ICE) officials.
"We stand behind the claims that we have made, and believe it is having an impacting, chilling effect in the schools," Greene said.
An officer for the past 3 1/2 years with the Carbondale Police Department and a native of Columbia, Agon had also worked as a liaison with ICE up until about six months ago, his attorney, Tom Adgate, said.
"He did have a relationship with ICE for approximately six months, up until about six months ago," Adgate said. "He no longer works for ICE."
Adgate said the allegations of racial profiling have been looked into by Carbondale Police Chief Gene Schilling and are unfounded. He has asked for a public apology from CIRC, and has pledged to file a defamation of character lawsuit against CIRC and Greene if Agon's name is not cleared.
But Greene has refused to back down.
"We stand 100 percent behind our allegations, based on the concerns that have been brought to us by the community," Greene said. "We believe this officer's actions are inappropriate, and we strongly feel the truth will speak for itself over time."
He cites more than two dozen statements collected from Latino families by a local student advocacy group. The statements, he said, provide evidence that Agon has targeted immigrant students and questioned them about their parents' immigration status.
CIRC, along with the student group Asociacion de Jovenes Unidos en Accion (AJUA), made up of Roaring Fork Valley high school students, are calling for Agon to be removed from the SRO position and suspended from the police force pending further investigation of the charges.
"This is a big issue in the community, and it's a debate we are willing to have," Greene said. "We want an opportunity for people to come and speak, whether they support officer Agon or oppose this collaboration that has been occurring."
A specific date, time and location for the planned forum has yet to be determined, he said.
According to Chief Schilling, Agon has been the department's designated SRO since shortly after he was hired in 2008.
The Roaring Fork School District contributes $15,000 to each of the SRO positions in Carbondale, Basalt and Glenwood Springs. That amount covers roughly a quarter of Agon's wages, Schilling said.
Schilling acknowledged that the SROs are part of a task force working with ICE to identify and guard against possible gang activity and recruitment in the schools and in the larger community.
"They were concerned about gangs recruiting and being in our schools, so the SROs were the likely person to include with that task force," he said.
He said the accusations against Agon surfaced about four months ago, and he agreed to meet with the group and look into the charges. Agon is currently taking some vacation time and is not on duty, Schilling said.
Schilling and Adgate both point to what they believe to be broad community support for Agon, including school faculty members who work closely with him. After CIRC issued its statement earlier this week, several school officials spoke out in his defense.
Adgate said that, in general, Agon's police work involved targeting suspects for possible criminal activities. Never was the focus on a suspect's immigration status, he said.
"You'll never find a case where Alvaro was pursuing someone just based on immigration violations," he said. "ICE doesn't go after someone unless there is criminal activity involved."
As for the accusations against Agon, "There may be a criminal element in the Latino community that doesn't like Alvaro ... I guess because he's doing his job," Adgate said. "But the majority of the Latino community supports him."
Criminal gang activity was also said to be the focus of a joint operation between ICE and local law enforcement agencies at the Strawberry Days carnival in Glenwood Springs last June, which CIRC also strongly criticized.
Agon was present when three arrests were made June 18 at the carnival venue at the Glenwood Springs Mall. The suspects were ultimately detained for immigration violations.
Agon was recently named as one of several defendants in a federal lawsuit filed on behalf of the family of one of the men who was arrested.
"Defendant Agon works as an ICE informant, and uses the information he obtains and relationships he builds in his capacity as a school resource officer to support ICE enforcement operations," alleges the lawsuit, filed by Glenwood Springs attorney Ted Hess for the family of Julio Alvarez-Cortez.
jstroud@postindependent.com
On Thu, Sep 22, 2011 at 11:23 AM, wrote:
I'm very impressed with your research. You're way ahead of the curve compared to me. Please keep me updated.
:Steve

Sent: Thursday, September 22, 2011 4:42:05 AM
Subject: Re: Lawsuit filed over ICE arrest in Glenwood Springs | SkyHiDailyNews.com

I'm working with my West Slope partner on this and another situation over there.
Time to respond to this, below.
KEY PLAYERS
Carbondale Police Chief Gene Schilling eks@carbondaleco.net (970) 963-2662 ext. 1222
Police officer Alvaro Agon is a LEGAL immigrant- born in Colombia, came to the U.S. legally - September of that year, he joined the police in Carbondale and is a ICE liaison.
Sue Turner, school counselor at Carbondale Middle School, called the allegations against Agon "outrageous." sturner@rfsd.k12.co.us
Post Independent reporter John Stroud jstroud@postindependent.com
Police officers attorney, Tom Adgate 1 (970) 963-7169
Roaring Fork Valley School board
Bob Johnson bjohnson@rfsd.k12.co.us
Debbie Bruell dbruell@rfsd.k12.co.us
William Lamont wlamont@rfsd.k12.co.us
Richard Stettner rstettner@rfsd.k12.co.us
Myles Rovig mrovig@rfsd.k12.co.usmrovig@rfsd.k12.co.us

Colorado Immigrant Rights Coalition organizer Brendan Greene Tel: 303-922-3344, ext. 3 brendan@coloradoimmigrant.org
Asociacion de Jovenes Unidos en Accion (AJUA) (They have a White House blog btw--)
(FaceBook, they are entwinned--> --Asociacion de Jovenes Unidos en Accion (A.J.U.A.) & Colorado Immigrant Rights Coalition (C.I.R.C.)
PS Almost 60% of Carbondale residents are immigrants, according to Census Data.
----------------------------------------------------------------------------------------
Latin American Herald Tribune Colorado Cop on School Duty Accused of Snooping for Immigration
Post Independent
Carbondale school officer accused of racial profiling 11:54am
A statewide immigrant rights group is accusing Carbondale's school resource police officer of using his position to profile local Latino students and their families for possible immigration violations and turning them over to federal agents.
However, Carbondale town officials and staff members in the town's schools who work closely with Carbondale Police Officer Alvaro Agon have been quick to defend him. Attorney, Tom Adgate, for Agon also said he's prepared to file a defamation of character lawsuit against the Colorado Immigrant Rights Coalition (CIRC) and its area representative, unless a public apology is issued.
"We believe Alvaro is using his capacity as school resource officer to investigate immigrant children and their families, whom he then turns over to ICE," Greene said in the release. Greene said that members of the Roaring Fork Valley student advocacy group Asociacion de Jovenes Unidos en Accion (AJUA) have been collecting testimonies for the past year from Latino families, providing evidence of Agon's actions, he said. Specifically, Greene accused Agon of targeting students who are Latino, or appear to be from immigrant families, and questioning them about their parents' immigration status.
"We turned in 28 statements to [Carbondale Police Chief Gene Schilling] supporting our claim," Greene told the Post Independent.
Agon was named as one of several defendants from area law enforcement agencies in a federal lawsuit that was filed in connection with one of the immigration arrests that occurred at the Strawberry Days carnival in Glenwood Springs earlier this year.
Greene said Agon's alleged "double duty" as a school resource officer and ICE liaison creates a conflict of interest and a breach of trust with students in Carbondale schools, more than 60 percent of whom are of Latin American descent.
"Alvaro Agon asked my little brothers, 6 and 7 years old, if my mom or stepdad have papers," Denise Soto, a student at Bridges High School in Carbondale, claimed in a statement that was included in CIRC's press release. "He sat outside my house waiting to see who would be driving, in order to pull them over because they don't have papers. He has tried to deport my parents. ... He does not make me feel safe."
On Thu, Sep 22, 2011 at 12:47 AM, S. Byron Gassaway wrote:
The U.S. has been infected with the legal equivalent of the AIDS virus. This kind of lawsuit is insane.
http://www.skyhidailynews.com/article/20110919/NEWS/110919966/1079%26ParentProfile=1067
GLENWOOD SPRINGS, Colorado - A lawsuit has been filed in federal court on behalf of the family of one of the men arrested and detained on immigration charges during what law enforcement officials said was a "gang enforcement operation" over Strawberry Days weekend this summer.
The lawsuit was filed Sept. 1 in U.S. District Court by Glenwood Springs attorney Ted Hess for plaintiffs Julio Alvarez-Cortez, his wife Lorenza Morales-Alvarez, an adult son, Emmanuel Ruiz, and two minor children.
Named as defendants in the case are Garfield County Sheriff Lou Vallario, local U.S. Immigration and Customs Enforcement (ICE) agents Steve Turza and Chris Carter, three Garfield County sheriff's deputies and a Carbondale police officer.
The lawsuit alleges that the joint law enforcement operation set up at the Strawberry Days carnival in the Glenwood Springs Mall parking lot the weekend of June 18 was unconstitutional and amounted to an "unlawful immigration sweep for Latino men."
It claims the "sweep" violated the Fourth Amendment of the Constitution and ICE's own regulations.
Alvarez-Cortez was one of three men detained and ultimately arrested for immigration violations and other charges June 18 after they were contacted for allegedly displaying gang colors. They were also questioned about their immigration status.
Also detained as part of the operation were Alvarez-Cortez's brother, Cesar Alvarez-Cortez, and David Centeno.
Sheriff Vallario said at the time that the men were contacted as part of local law enforcement's cooperation with ICE's Operation Community Shield Gang Task Force.
"The mission is to identify gang members and prosecute them either locally or federally," Vallario said at the time.
However, the lawsuit says the federal and local agents overstepped their bounds and carried out an unjustified and potentially dangerous operation in a crowded setting. That violated an ICE directive not to conduct such operations in sensitive locations where families and children are likely to be present, according to the lawsuit.
"There is not significant Latino gang activity in Garfield County ... and no history of significant gang activity at past Strawberry Days festivals," the lawsuit claims.
Both Julio and Cesar Alvarez-Cortez were wearing sports jerseys and caps when they were questioned by police officers. The men were asked to accompany the officers to an ICE command trailer that had been set up at the carnival grounds for further questioning, purportedly about a fight that had occurred the night before.
Once at the command trailer, no questions were asked about the fight, the lawsuit claims, but the brothers were detained on charges of being in the United States illegally.
During the incident, Lorenza Alvarez, who was seven months pregnant at the time, tried to intercede but began experiencing medical problems and had to be taken to the hospital. Her husband, Julio Alvarez-Cortez, remains in the custody of ICE pending immigration proceedings.
The lawsuit acknowledges that ICE can legally approach suspected gang members and attempt to gain immigration-related information with the person's consent.
However, "ICE agents have no authority to deputize local law enforcement officers to encounter and detain suspected gang members and turn them over to ICE," the lawsuit claims.
The lawsuit requests a jury trial to determine compensation for damages related to wrongful seizure, profiling and discrimination based on national origin and violation of constitutional rights, among other claims.
On Friday, Vallario said he had not yet been made aware of the lawsuit and said a comment would be premature.
Carl Rusnok, ICE director of communications, Central Region, also declined comment on the lawsuit specifically. Following the June arrests, Rusnok said the operation was carried out in a discrete manner and did not cause undue disruption of the festival.
The operation was also highly criticized by the Colorado Immigrant Rights Coalition, which also said it violated ICE procedures.
Mexican consulates work with Boulder "authorities" to make it a crime to threaten illegal aliens with deportation, making the citizens the criminals and the illegal aliens the alleged victims.
Boulder woman accused of extortion after fender-bender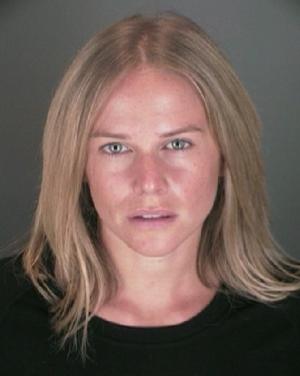 Police: Abigail Jane Suber threatened driver with call to immigration authorities
By Erica Meltzer Camera Staff Writer
Posted: 07/06/2011 04:54:42 PM MDT

Abigail Jane Suber's booking photo A Boulder woman has been charged with felony extortion after police said she threatened a Longmont couple with calling immigration authorities if they didn't pay her money after a car accident in which she was at fault.
The case started back in April when Abigail Jane Suber, 28, of Boulder, and Hector Holguin-Perez, 41, of Longmont, were involved in a minor car accident near the intersection of 24th and Pearl streets in Boulder.
Holguin-Perez and his wife, Irma Hernandez, told Boulder police that Suber threatened to call immigration authorities if they did not admit fault in the accident and pay her $400. Later, Suber demanded $800, they said.
Suber said she offered to settle the matter privately at the request of Holguin-Perez and Hernandez, only to have them stop payment on the checks.
In a written statement she gave to police, Hernandez said she got a call from her husband, who does not speak English, that a woman had hit him with her truck. Holguin-Perez then asked his wife if she could come to the scene because he didn't understand what the woman was saying.
Hernandez said that when she arrived, Suber asked for Hernandez's driver's license, wrote down her information, then told her Hernandez should say that she was driving and that it was her fault. If Hernandez didn't pay Suber $400, she would call immigration, the report said.
Hernandez said Suber asked her if she wanted her 5-year-old son to grow up without his father and said she pays a lot every month on her truck, a 2011 Toyota Tacoma.
According to the police report, Holguin-Perez had insurance for his Chevrolet van, but no driver's license. His immigration status is not clear.
Hernandez wrote two post-dated checks to Suber for a total of $400, she told police.
In an interview with the Camera, Hernandez said she didn't feel good about the incident because she knew the accident wasn't her husband's fault. She called an attorney she knew through her work cleaning houses. He advised her to cancel the checks and talk to police.
The attorney referred her to Brandt Milstein, an attorney who frequently represented immigrants who haven't been paid for their work. He put her in touch with the Boulder County District Attorney's Office, where attorneys asked her to make a police report.
Colorado's extortion statutes explicitly include threatening to report someone to immigration as a crime.
Hernandez told police Suber became angry after she canceled the checks and demanded $800 for the repairs, plus $30 for the canceled checks.
Suber left a voicemail message for Hernandez confirming her address and saying she was sending police and immigration to get her husband, Hernandez told officers. Hernandez saved the message and gave it to police, the report said.
Suber could not be reached for comment, but in a written statement included in the police report, she said no blackmail occurred. Suber said Hernandez and Holguin-Perez wanted to settle the matter privately without involving the police because Holguin-Perez is not here legally, then stopped payment on the checks without warning her. That caused Suber to be fined by her bank.
Suber said she told Hernandez she was seeking legal advice about the stopped checks and gave her another chance to work it out.
"I then spoke to her about having the police involved and speaking to an immigration lawyer," Suber wrote. "I feel that I was lied to and taken advantage (of). He had no right to be driving on a public road. He has no license and is therefore at fault."
According to the police report, Holguin-Perez said he backed up out of a parking lot and was pulling forward when Suber, who was backing up, struck him on the rear passenger side of his van.
Suber told police both vehicles were backing up when they struck each other.
The damage to both vehicles was consistent with Holguin-Perez's account, Officer Sharon Ramos wrote in the report.
"The damage was minimal in that the bumper was very slightly pushed in on the left side and very hard to notice," the report said of Suber's truck.
There were noticeable scrapes and a dent on Holguin-Perez's vehicle.
A warrant was issued for Suber's arrest on May 27. She was booked into the Boulder County Jail on June 20. She was formally charged with extortion last week.
Boulder police spokeswoman Kim Kobel said if Holguin-Perez did not have a license, he would have been ticketed -- if police had been called to the scene of the original accident. However, the felony accusation against Suber supercedes a traffic infraction.
"To charge the victim of a felony with a misdemeanor traffic violation would discourage other crime victims from coming forward in the future," Kobel said.
Boulder police did not investigate Holguin-Perez's immigration status because he was not arrested, Kobel said. Under state law, Boulder makes a report to Immigration and Customs Enforcement only when a person is both under arrest and there is probable cause to believe they are in the country illegally.
Hernandez said she had been afraid of Suber, but she is glad the police took the matter seriously.
"People need to speak up and not stay quiet," she told the Camera in Spanish. "The police are here to help people. I've lived in Boulder for 21 years, so I had confidence they would do their job well."
A hearing in the case is scheduled for July 18.