Does demographic displacement advance White genocide in Canada?
Canada's population is 35 million people. Canada accepts roughly 300,000 immigrants every year. 4 out of 5 of Canada's immigrants are visible minorities. Experts state that Canada will be almost 80-percent non-white in less than a century.
Commenter Faith Goldy observes that:
Canadians are constantly reminded that "diversity is our strength"- it's the unofficial motto of Justin Trudeau's administration. But do the numbers indicate real diversity? Or is "diversity" just code for population replacement?

Canada Passes Blasphemy Bill To Silence Critics Of Islam
Despite polls showing that 71% of Canadians would not have voted for the measure, Canada's Parliament, with the strong backing of Justin Trudeau's Liberal government, passed a motion this week 201 to 91 that critics say singles out Islam for special protection. Tabled by Muslim liberal MP Iqra Khalid, M-103 urges the federal government to "condemn Islamophobia" and to "develop a whole-of-government approach to reducing or eliminating systemic racism and religious discrimination including Islamophobia." The term "Islamophobia" is nowhere defined in the motion.
A petition on CitizenGo asking MPs to stop the "restrictive 'anti-blasphemy'" motion has been signed by 79,500 people.
"This motion will encourage legislation that would criminalize speech deemed 'islamophobic' and lay the groundwork for imposing what is essentially a Sharia anti-blasphemy law on all of Canada," the petition states.
"If that happens, criticism of Islam would constitute a speech crime in Canada," it states, adding that this "kind of content-based, viewpoint-discriminatory censorship is unacceptable in a Western liberal democracy."
The Rest…
http://www.zerohedge.com/news/2017-03-24/canada-passes-blasphemy-bill-silence-critics-islam

Imam calling for Jews to be killed in sermon at Montreal mosque
It seems to be no big deal to the police, ACLU, ADL, B'nai Brith-types since it's not WASPs calling for the killings. The Imam must have brown privilege.
Radical Muslim Immigrant Now In Canadian Parliament Pushing For Anti-Islamophobia Law
The former president of a student association that handed out books which condoned wife beating is now pushing for anti-Islamophobia laws as a member of the Canadian parliament.
Her name is Iqra Khalid. She was born in Pakistan and then moved to Canada in the 1990's. Now she is a member of the Canadian Parliament where she is pushing for anti-Islamophobia laws.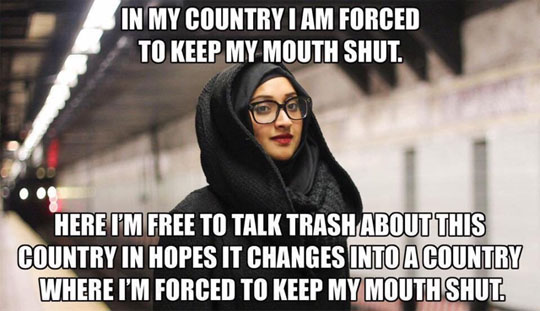 Schizophrenic Canadian who beheaded bus passenger walks free, won't be monitored
Quebec Mosque Shooting: One Shooter Identified As French-Canadian, One Of Moroccan Heritage
Following January 29's deadly shooting at a Quebec City mosque which killed six people and wounded eight, two suspects were under arrest and according to press reports have been identified: one is a French-Canadian and the other was of Moroccan heritage. One suspect was identified as Alexandre Bissonnette, a French-Canadian, the other as Mohamed Khadir, who is of Moroccan heritage although his nationality was not immediately known.
Archive of deleted Face Boot page of Alexandre Bissonnette (shooter at Quebec mosque)
Justin Trudeau: "I'm a Proud Feminist," Muslims "Essential" to Canada's Success
Asked to comment on the election of Donald Trump, Canadian Prime Minister Justin Trudeau said he's not going to be "shy" about the fact he's a "proud feminist," believes "immigration is a source of strength" and "Muslim Canadians are an essential part of the success of our country."
"Don't be fooled by good-looking liberals": Jane Fonda trashes Trudeau over pipelines
Despite a rousing speech at the Paris climate talks in 2015, Canada's Prime Minister Justin Trudeau has "betrayed" every one of the commitments he made, according to actor and activist Jane Fonda.
"The lesson is we shouldn't be fooled by good-looking Liberals," she said of the Canadian PM.
Canada's Trump? Right wing politician storms polls as dissatisfaction spreads in Canada
Pediatric surgeon and former cabinet minister Kellie Leitch is gaining support from across her nation placing her as a surprise frontrunner to lead the opposition Conservative Party. Ms Leitch, like the US president-elect, is railing against immigration and political elites and pushing a hard-right "Canadian values" platform. The 46-year-old has answered rising discontent in Canada over the sluggish economy and the acceptance of 37,000 Syrian refugees. Fresh polls show Leitch is ahead of about a dozen candidates in the Conservative leadership election scheduled to be held on May 27, 2017. The candidate chosen by party members will be their flag bearer for the October 2019 general election, against Prime Minister Justin Trudeau's anit-White, Fidel Castro loving Liberals.

Alt-Right Flyers Invade Multicultural Canada
by Fan Jun
A sequence of flyers posted in Toronto and inside mailboxes in Richmond, BC, over the last weeks have occasioned a sequence of paroxysms of rage, totalitarian self-righteousness, and hate crimes investigations across the second largest country of the world.
It all began on a quiet morning when a young White male cuck saw a poster on a tree with the words "Hey, WHITE PERSON, wondering why only white countries have to become 'multicultural'?" and "figured out that diversity only means 'less white people'?" This man, an exemplary law abiding member of the most diverse and most harmonious city ever created in history, was "shocked and disgusted" by these words, and immediately pulled down the flyers, and then notified the police about a potential invasion of Canada by an Alt-Right army.
City councillor Jane Davis, who brags in her Twitter she is "working with you to build our community" backed by a picture consisting of sixteen children of which only two are White, immediately tweeted:
This hate is unacceptable in our City. Staff are removing the posters immediately and investigating who is responsible.
She then called for more immigration to stop the possibility of any White male in the future posting such "very disturbing, very worrisome" ideas.
And so it went for a few days, article after article, TV news after TV news, with Toronto Police Const. Victor Kwong assuring the most harmonious community in human history that the Police had "launched an investigation after speaking to several complainants about the posters."
The investigation would also involve "taking samples" of the bacterial flyers "for analysis" in laboratories.
Even a "spokesman for Toronto's Parks, Forestry and Recreation," Matthew Cutler, was "made aware" of the flyers in case they were found across the forests and parks of Canada. He agreed that they would carry a thorough examination of as many trees as possible, and that all the forestry agents were instructed to "immediately remove them" if they saw them.
Rinaldo Walcott
CBC news announced a police investigation "after posters went up directing people to 'pro-European' news sources" They consulted an expert on pro-European hatred, Rinaldo Walcott, director of the Women and Gender Studies Institute at the University of Toronto. After much thinking, he came up with a brilliant analytical conclusion:
Of course the American election has emboldened white nationalist groups in Toronto. Only time will tell how far out of the shadows they will emerge.
You see, Walcott is an exemplary member of our harmonious multicultural nation; all his writings have been about Black Like Who: Writing Black Canada, Contemporary Black Canadian Cultural Criticism, etc. etc. You don't believe me, check his university page, it says with pride that:
in all of Rinaldo's research and publication he focuses on Black cultural politics; histories of colonialism in the Americas, multiculturalism, citizenship, and diaspora; gender and sexuality; and social, cultural and public policy.
And why not, how else are you are going to create a harmonious Canada if not by eliminating pro-European ideas and establishing pro-Black ideas?
Nate Erskine-Smith, the member of parliament for Beaches-East York, announced with solemn words and self-righteous indignation:
We are better than this. Ignorant, unacceptable and #NotMyCanada.
Even Marilyn Mayo, Research Fellow in ADL's Center on Extremism, was asked to comment about this major course of events in Canada. She had no doubt these flyers were "in favour of a politics that embraces either implicit or explicit racism or white supremacy," and that an Alt-Right movement was now threatening the entire fabric of Canada's exemplary multicultural harmony.
The Huffington Post, Toronto Star, Toronto Sun, and countless others would go on ad nauseum with similar stories, similar reactions, and similar experts.
Then, a few days later, another massive shock hit the other side of the country: Alt-Right Pamphlets Come to Richmond Targeting Chinese People. How could this be, how did White men manage to penetrate this stronghold of harmonious multiculturalism, a city that is now majority Chinese, with Chinese commercial signs everywhere, and barely any audible English on the streets?
One resident, "who feared possible retribution" by White soldiers if named by the Richmond News said:
I was horrified, absolutely horrified. I thought, is this real? Oh my gosh, this is what's happening in the United States right now. I just couldn't believe this was happening.
Don't worry, Cpl. Dennis Hwang assured residents that
the Richmond RCMP will take all matters that may be hate or bias motivated very seriously. We are currently investigating this incident.
"I'm pissed that someone thought this was acceptable," said another resident. What the establishment found most unacceptable indeed was the way this poster "alludes to ethnic Chinese people refusing to speak English and making housing prices unaffordable," and suggesting that "white people are being marginalized" in such a successful example of multicultural diversity as Richmond.
Don't these White supremacists know that Richmond is "the centre of a global demographic explosion virtually unprecedented in human history"? Can't they understand that multiculturalism has worked in this city, "no other city in Canada has a population in which 62 per cent of permanent residents are foreign born?"
Are they not aware that University of Victoria urban geographer David Chenyuan Lai has counted more than "50 bustling Asian-themed malls and outlets"? Can't they see that giant houses called "McMansions" are "steadily replacing" the boring "small bungalows" of White families?
How could they possibly target the Chinese when Richmond, six years ago, as of 2011, finally became 54.6 percent Chinese, and only 26.1 percent White? Is this not a major success signalling ever growing harmony?
Well, if pro-European men can't see that this is a success, the establishment will ensure that it is, and so CEO Queenie Choo has announced that S.U.C.C.E.S.S. will hold a massive forum in the new year "over anti-immigrant sentiment." S.U.C.C.E.S.S. is especially designed "to assist new immigrants with settlement; provide counselling and support to families and individuals with personal issues" and re-educating the White population into accepting without any racist complaints their demographic replacement in Canada as the most successful thing that could ever happen for the sake of multicultural harmony.
How dare you Whites put posters disrupting the incredible success of multicultural Canada! How dare you wonder why only White countries are being forced to become racially diverse? How dare you question your marginalization? Tired of being called a racist if you question this success? You bet we will call you a racist if you express "pro-European" views rather than our pro-Chinese and pro-Black views.
Posted at 16:18 7 C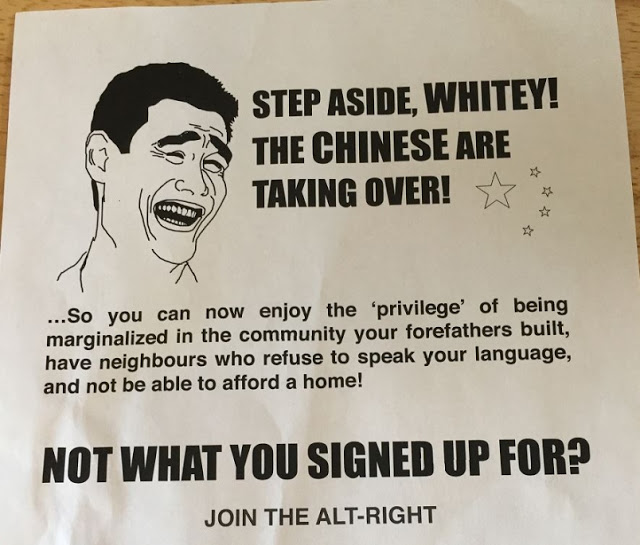 The moonbats running Canada make it difficult for women to defend themselves even with pepper spray, never mind firearms. They can get up to 3 years in prison and a $500,000 fine for giving a rapist a squirt.
Canadian Patriots to Islamic Invaders: "Keep Your Barbaric Ways in Your 7th Century Homeland"